Bandai PocketTurbo

Console

Developer
Bandai Namco Games
Console type
Home console
Handheld console
Backwards compatibility
None
Bandai PocketTurbo know in Japan as Bandai Pocket Gear (バンダイポケットギア,Bandaipokettogiais) an 8-bit portable handheld console from Bandai Namco Games released in May 13, 2009 in Japan, May 23, 2009 in North America, June 10, 2009 in Europe, It resembles the Game Boy Micro except it's large.
It functions like the Sega Game Gear, and the battery life lasts for 10-12 hours (much like the Game Boy). And ports of the original Game Boy titles are in full color. There's also a console version called the Bandai PlayerTurbo which plays PocketTurbo and PocketTurbo Plus games on your TV. It resembles the Turbografx 16.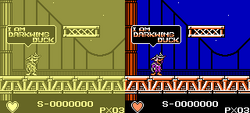 List of Games
Edit
Any page that has Category:Bandai PocketTurbo Games on them will be added here automatically.
Ad blocker interference detected!
Wikia is a free-to-use site that makes money from advertising. We have a modified experience for viewers using ad blockers

Wikia is not accessible if you've made further modifications. Remove the custom ad blocker rule(s) and the page will load as expected.