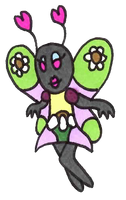 Betty the Butterfly
is a new animatronic and an antagonist in
Six Nights at Sammy's
.
Description
Edit
When Sammy Skunk's Supermall opened in 2001, the company thought of a flying animatronic, which was Betty.
Betty starts the night at Betty's Boutique. She is active on Night 4 onwards, When Betty escapes Betty's Boutique, She will go to the Arcade to make the player not know if Jack-In-The-Box is rising. Then she will appear at the left door. If the player is viewing the cameras with the door open while she is there, Betty will move inside The Office. She will act like Balloon Boy from the second game when in The Office. She will disable the flashlight, She will remain inside for the rest of the night. Leaving the player vulnerable to Foxy and Chica.
Ad blocker interference detected!
Wikia is a free-to-use site that makes money from advertising. We have a modified experience for viewers using ad blockers

Wikia is not accessible if you've made further modifications. Remove the custom ad blocker rule(s) and the page will load as expected.