This article is about the "Blake" of the

Rose Warriors

canon. For this Blake's normal incarnation, see

here

.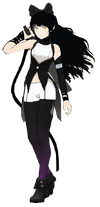 Full Name:
Blake Belladonna
Hometown:
Vale
Gender:
Female

♀

Species:
Faunus
Weapon:
Gambol Shroud
Alignment

Rose Warriors

Status:
Alive

*
From Shadows
Blake is a protagonist featured within the Rose Warriors series of video games, and is a member of the Rose Warriors.
Personality
Edit
Blake is mellow, serious and always seems to be calm. Blake, unlike many other Faunus, cares about people's lives and treats everybody equally without corrupted thoughts based upon first impressions. Blake is often somewhat of an unsocial person, preferring to sit alone and read books than talk to people. Though she is a loner, she is not anti-social, adding in sarcastic or mocking comments into conversations. She is often shown to be realistic in her goals and somewhat optimistic, though Blake can quickly lose her temper if provoked, and will say whatever comes to the front of her mind without any control.
This page is under construction.
Please excuse its informal appearance while it is being worked on, as formatting may be changed over time. We hope to have this page completed as soon as possible!
Ad blocker interference detected!
Wikia is a free-to-use site that makes money from advertising. We have a modified experience for viewers using ad blockers

Wikia is not accessible if you've made further modifications. Remove the custom ad blocker rule(s) and the page will load as expected.