This article is about the "Bowser" of the

Rose Warriors

canon. For this Bowser's normal incarnation, see

here

.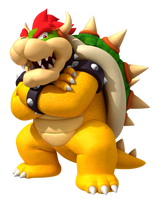 Full Name:
Bowser
Hometown:
Valley of Bowser
Gender:
Male

♂

Species:
Koopa
Weapon:
Magic Sceptre
Alignment

Koopa Troop

Status:
Alive

*
In the Finale
Bowser is a major anti-hero character featured within the Rose Warriors series of video games, and is the leader of Koopa Troop.
Personality
Edit
Bowser is selfish and contempt, who wished to conquer the Mushroom Kingdom and usurp Peach prior to the creation of the New Earth. Despite being malevolent and evil, Bowser is known to be a slow thinker and often of lower intelligence than most others. His intelligence level can lead to accidental comedy, though this is often overshadowed by how devious and manipulative he can be. Bowser cares for his son, Bowser Jr., though has shown a greater love for his castle.
Rose Warriors
Edit
This page is under construction.
Please excuse its informal appearance while it is being worked on, as formatting may be changed over time. We hope to have this page completed as soon as possible!
Ad blocker interference detected!
Wikia is a free-to-use site that makes money from advertising. We have a modified experience for viewers using ad blockers

Wikia is not accessible if you've made further modifications. Remove the custom ad blocker rule(s) and the page will load as expected.