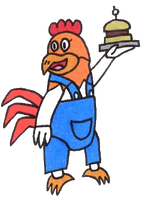 Chica the Chicken
is an antagonist in
Six Nights at Sammy's
.
Description
Edit
Are you ready to eat? Chica is! Sometimes in the Fall during the day at the mall, Chica kept tripping because of her burger sidekick.
Along with Sammy and Bonnie, Chica will be active Night 1 onwards. She starts in the Food Court area. From there, she will move to anywhere on the right side of the mall with the exception of the Basement. When she is done wandering around the right side of the mall, She will appear in the middle hallway. In this stage, The player has 4 seconds to put their mask on. If the player is on the cameras while Chica is there, Chica will jumpscare the player.
She, Bonnie, and Foxy are the only characters originally a part of Freddy Fazbear's Pizza to be redesigned for Sammy's Supermall.
Chica has perhaps gone through the most radical redesign of the original four animatronics in Six Nights at Sammy's. This is due to her being easily mistaken for a duck instead of a chicken in her earlier designs.
Unlike the first 2 games, Chica has a different behavior than Bonnie.
Ad blocker interference detected!
Wikia is a free-to-use site that makes money from advertising. We have a modified experience for viewers using ad blockers

Wikia is not accessible if you've made further modifications. Remove the custom ad blocker rule(s) and the page will load as expected.