This article is about the "Dialga" of the

Rose Warriors

canon. For this Dialga's normal incarnation, see

here

.
| | | |
| --- | --- | --- |
| | Dialga | |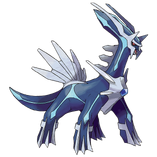 Full Name:
Dialga
Hometown:
None; Currently residing in-between dimensions.
Gender:
None
Species:
Pokémon
Weapon:
Various
Alignment

None

Status:
Alive; in suspended animation

*
Primal Dialga Battle Theme
Dialga is a character featured prominently in the Rose Warriors series of video games. He, alongside Palkia and Giratina, can be classified as the main antagonist of the series.
Rose Warriors
Edit
Dialga appears in the prologue of the game Rose Warriors, as it explains how the events of the game take place. He, alongside Palkia, combine the clashing worlds together, in order to protect them. Doing so drains him of his powers, and he remains trapped in-between dimensions in suspended animation.
When Dialga and Palkia awaken, the worlds start to crumble and implode on itself. As it is being destroyed, the Rose Warriors travel to Spear Pillar and fight the two "gods". Once they are defeated, they retreat back in-between dimensions, and fall into an eternal slumber.
Rose Warriors: Vengeance
Edit
This page is under construction.
Please excuse its informal appearance while it is being worked on, as formatting may be changed over time. We hope to have this page completed as soon as possible!
Ad blocker interference detected!
Wikia is a free-to-use site that makes money from advertising. We have a modified experience for viewers using ad blockers

Wikia is not accessible if you've made further modifications. Remove the custom ad blocker rule(s) and the page will load as expected.