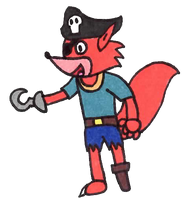 Foxy the Pirate
is an antagonist in
Six Nights at Sammy's
Description
Edit
The pirate fox that every kid loves! He's there so kids could come to the mall and enjoy the fun!
Foxy will be active Night 2 onwards. He begins the night at Pirates Cove. When he leaves Pirates Cove, He will act as he did in the second game, Foxy will appear in the middle hallway. In this case, the head doesn't work, so the player must flash the light at him for approximately 10 seconds. If the flashlight is ignored, Foxy will jumpscare the player and end the game.
Ad blocker interference detected!
Wikia is a free-to-use site that makes money from advertising. We have a modified experience for viewers using ad blockers

Wikia is not accessible if you've made further modifications. Remove the custom ad blocker rule(s) and the page will load as expected.