This page is under construction.
Please excuse its informal appearance while it is being worked on, as formatting may be changed over time. We hope to have this page completed as soon as possible!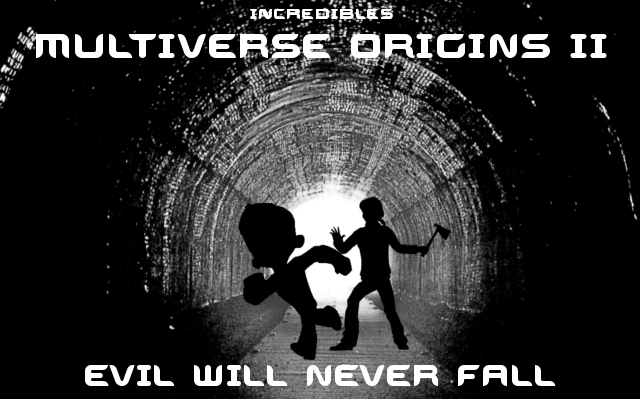 "  The world has been rebuilt, the Armada has been destroyed... But evil will never fall!  "
— Tagline
Incredibles: Multiverse Origins II is the alternate canon sequel to Incredibles: Multiverse Origins. The game takes place 3 months after the events of the first Multiverse Origins and after the defeat and destruction of the Villain Armada, and the whole world is still recovering from the War Against the Villain Armada. However, the Armada starts to slowly build itself back up, underground and in secret. Now, Dashiell 'Dash' Parr, Clementine Everett and Jackson 'Jacks' Pearce must stop Ozone's brother, Scarecrow, from leading the Villain Armada! The game is set for release in 2019 and is exclusive to Xbox One. The game was confirmed at E3 2019, along with a sequel, Incredibles: Multiverse Origins III, which is confirmed for release in 2020.
Characters
Edit
Dashiell 'Dash' Parr - Son of Mr. Incredible and Legendary Hero. After defeating Ozone and destroying the Villain Armada in the last game, Dash now hunts the remains of the Villain Armada across the globe. Dash is also a very close friend to Clementine Everett, another Legendary Hero. Dash's iconic weapon is ASM1 with a Auto Focus Sight, Foregrip, Drum Mag and Laser Sight. He also carries an Atlas 45-Cudgel (a better Variant of the Atlas 45 Pistol) with an orange paint job, and the attachment is a Laser Sight and Red Dot Sight.
Clementine Everett - Dash's closest friend in the Hero Coalition and adopted daughter of Lee Everett. Clementine is one of the most crucial members to the Coalition as she is one of the two Heroes aside from Dash with enough power to kill Ozone. Clementine's weapons consist of an IMR Assault Rifle with a Laser Sight, Red Dot Sight and Advanced Rifling, along with a Full-Auto Fire Mode. Clementine's secondary weapon is an M1 Irons COIL Revolver.
Ad blocker interference detected!
Wikia is a free-to-use site that makes money from advertising. We have a modified experience for viewers using ad blockers

Wikia is not accessible if you've made further modifications. Remove the custom ad blocker rule(s) and the page will load as expected.