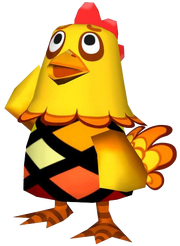 Lazy is a personality found within the Animal Crossing series. Often also called Doofus, Relaxed or Food-Loving villagers, Lazy villagers are always hungry and very hospitable, always glad to have a guest over at their house.
Lazy villagers are known for their relaxed and laid-back lifestyle. Lazy villagers tend to get along with all villagers, with the exception of jock villagers, who often question their lifestyle choice. They are very rarely seen to be angry.
Lazy villagers get an average amount of sleep, sleeping from 10:00pm-8:00am in Dōbutsu no Mori, 1:30am-8:00am in Animal Crossing: Wild World and Animal Crossing: City Folk, and 11:00pm (or 2:00am, if a certain ordinance is enacted)-8:00am in Animal Crossing: New Leaf. Sometimes, albeit rarely, Lazy villagers can be found asleep inside their homes.
Lazy Villagers
Edit
A
B
C
D
E
F
H
J
K
L
M
N
O
P
R
S
T
V
W
Y
Z
Ad blocker interference detected!
Wikia is a free-to-use site that makes money from advertising. We have a modified experience for viewers using ad blockers

Wikia is not accessible if you've made further modifications. Remove the custom ad blocker rule(s) and the page will load as expected.