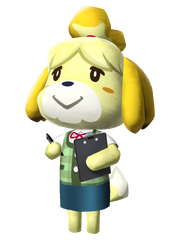 Below lists all holidays and events in My Animal Crossing. Many of the events previously occurred in the other installments of the Animal Crossing series: Dōbutsu no Mori, Dōbutsu no Mori +, Animal Crossing, Dōbutsu no Mori e+, Animal Crossing: Wild World, Animal Crossing: City Folk and/or Animal Crossing: New Leaf.
Not listed below is the (Hometown) Day holiday, which marks the anniversary of when your town was created, and therefore can be any day of the year. On this day, a party will be thrown at Town Hall, and all villagers will be wearing birthday hats. If spoken to, Isabelle will give the player a birthday hat of one of sixteen different colours.
In addition, on the player's birthday, two animals will be outside of your house, and will give you gifts. Both gifts are random, unless it is their first in-game birthday, in which one animal will give them a Birthday Cake item.
New Year's Day
Edit
La-Di-Day
Edit
Fishing Tourney
Edit
Flea Market
Edit
Groundhog's Day
Edit
Fishing Tourney
Edit
Valentine's Day
Edit
Flea Market
Edit
Festivale
Edit
Spring Sports Fair
Edit
Third week of March: Returning from a three game absence, the Spring Sports Fair contains a number of events that the player can watch and participate in. Players can cheer on their favourite participants in events that depend on the day. Isabelle will give out sports medallions if you speak to her. Depending on the current event, she will give you either a bronze, silver or gold medal. From 5am to 8am, Copper will hold morning aerobics. All participating villagers wear white outfits - girls have a pink stripe along the side, while boys have blue stripes-aptly named the "Male/Female Sporting Tee", which can be bought from the Able Sisters shop for 125 bells.
Schedule:

Monday 8am-12:30pm: Ball Toss
Monday 12:30-9:00pm: Tug-O'-War
Tuesday 8am-12:30pm: Sprint
Tuesday 12:30-9:00: Rock Climb
Wednesday 8am-12:30pm: Sprint
Wednesday 12:30-9:00pm: Tug-O'-War
Thursday 8am-12:30pm: Rock Climb
Thursday 12:30-9:00pm: Ball Toss
Friday 8am-12:30: Sprint
Friday 12:30-9:00pm: Ball Toss
April Fool's Day
Edit
Cherry Blossom Festival
Edit
Spring Cleaning
Edit
Mother's Day
Edit
Father's Day
Edit
Summer Fishing Tourney
Edit
Summer Solstice
Edit
Fireworks Shows
Edit
Morning Aerobics
Edit
La-Di-Day
Edit
Morning Aerobics
Edit
Flea Market
Edit
Fireworks Show
Edit
Meteor Shower
Edit
Founder's Day
Edit
September
Edit
New Year's Eve
Edit