This page should be rewritten.
This page does not meet the wiki standards and should be rewritten. If the page is not rewritten, the page may become a candidate for deletion.
Magic Superstars
Edit
Magic The 4th Chapter
Edit
this was gonna be the 4th game but they delayed it and they didn't have time to rename it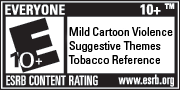 Magic Enchantment
Edit
Ad blocker interference detected!
Wikia is a free-to-use site that makes money from advertising. We have a modified experience for viewers using ad blockers

Wikia is not accessible if you've made further modifications. Remove the custom ad blocker rule(s) and the page will load as expected.