A Mii (Japanese: ミー Me) is a digital avatar used in Nintendo's Wii, Wii U and Nintendo 3DS gaming consoles. They allow users to capture a likeness (or a caricature) of themselves, others, or invented characters. After creating one using the Wii's Mii Channel or the Nintendo 3DS's/Wii U's Mii Maker, they can be used as playable characters in various titles for each of the named consoles. The word "Mii" is often thought to be a portmanteau of "Wii" and "me."
Because of a deal struck between J-Games and Nintendo, the Miis are featured prominently within the J-STORM console, where they are usually described as avatars. In Storm City, players are able to change the clothing that Miis wear in-games.
Creation and Development
Edit
The first Mii characters were revealed at the Game Developers Conference in 1997. Shigeru Miyamoto first said that the Miis started out as a concept for a Famicom game, where a user could draw his face or someone else's. At the conference, Miyamoto commented the concept could not be turned into a game and the concept was shelved.
A few years later, during the Nintendo 64 era, an unsuccessful disk drive for the N64, the Nintendo 64DD, was made. Nintendo had developed a short film using Mario Artist: Talent Studio's avatar maker, which now included clothes & a built-in movie editor. After the disk drive's failure, Nintendo still had work to do on the Mii project.
The next try was for the Nintendo e-Reader. Along with the Game Boy Camera, it could build an avatar maker. Miyamoto showed another short film they made with the newer avatar maker, which was called Stage Debut, which was shown at E3 2002.
Appearances
Edit
Miis return as unlockable characters in Mario Kart: Mega Mash-Up. Their size depends on the Mii itself and their karts and bikes will match whatever colour has been selected as their favourite. You can unlock them by completing a Time Trial on every course.
They will do the following to each stat in whatever kart or bike they ride:
Speed: +1
Weight: +1
Acceleration: +2
Handling: +2
Speed: +1
Weight: +2
Acceleration: +2
Handling: +1
Speed: +1
Weight: +3
Acceleration: +1
Handling: +1
Miis play a very important part in J-Games' first downloadable title Reversal. In the game, the player takes control of their Mii and must travel between worlds in order to find the Q-Stars that will help save both the Reverse and the Inverse. While taking control of a Mii in the Inverse world, their colours - along with everything else - are inverted.
Miis return as unlockable playable characters in Mario Kart NX; made available when the player places in first in a single player Grand Prix. Like in previous games, the Miis stats are altered depending on their weight and height; though they will be fit into one of three categories. Small Miis will be placed in the "Feather" weight class, medium-sized Miis in the "Medium" class, and large Miis in the "Cruiser" class. Similarly to Mario Kart 8, Miis can be customized in various costumes unlocked by scanning amiibo figures.
Various Miis also appear in the backgrounds of several courses, with their faces taken from Miis stored on the console.
Super Smash Bros. seriesEdit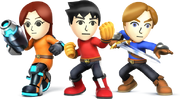 Main article: Mii Fighter
The Miis debuted as playable characters in the Super Smash Bros. through the fourth installment. Taking the name of "Mii Fighters", players could customize their Miis' movesets and appearance, giving them clothing and hats to make them stand out. There were three types of Mii Fighters: Swordfighter, Gunner and Brawler.
Miis serve as the main characters in Golden Games's Quest for Aeraea. Throughout the game, they fill most of the roles, and many of the Miis are chosen by the player.
=== [[The

Characters of  

Super Smash Bros. Strife

Animal Crossing
Digby · Isabelle · Mr. Resetti · Villager
Bayonetta
Bayonetta · Jeanne
Bomberman
Bomberman
Captain Rainbow
Captain Rainbow
Chibi-Robo
Chibi-Robo · Telly Vision
Custom Robo
Ray Mk III
Devil World
Devil
Dillon's Rolling Western
Dillon
Donkey Kong
Cranky Kong · Diddy Kong · Dixie Kong · Donkey Kong · Fish Poker Pops · Funky Kong · King K. Rool · Kritter · Pauline · Pointy Tuck · Tiki Buzz · Zinger
Drill Dozer
Jill
Duck Hunt
Dog · Duck
EarthBound
Devil Car · Flying Man · Jeff Andonuts · Kumatora · Lucas · Mr. Saturn · Ness · Ninten · Pigmask · Starman
Electroplankton
Hanenbow
Ever Oasis
Isuna · Tethu
Excite
Excitebike
Final Fantasy
Cloud Strife · Gilgamesh · Lightning · Noctis Lucis Caelum · Terra Branford · Tifa Lockhart
Find Mii
Ghost
Fire Emblem
Chrom · Corrin · Elincia · Ike · Itsuki Aoi · Lucina · Lyn · Marth · Risen · Robin · Roy
F-Zero
Captain Falcon · Samurai Goroh
Game & Watch
Mr. Game & Watch
Golden Sun
Isaac
Gradius
Vic Viper
Ice Climber
Nana · Polar Bear · Popo · Topi
Jam with the Band
Barbara
Kaeru no Tame ni Kane wa Naru
Sablé Prince
Kid Icarus
Boom Stomper · Bumpety Bomb · Dark Pit · Magnus · Mimicutie · Monoeye · Orne · Palutena · Phosphora · Pit · Reaper · Skuttler · Souflee · Zuree
Kirby
Adeleine · Bonkers · Bronto Burt · Broom Hatter · King Dedede · Galacta Knight · Gordo · Kirby · Knuckle Joe · Meta Knight · Nightmare · Poppy Bros. Jr. · Queen Sectonia · Shotzo · Tac · Waddle Dee · Waddle Doo · Whispy Woods
Kururin
Kururin
Legendary Starfy
Starfy · Starly
Legend of Zelda
Bombchu · Bubble · Bulblin · ChuChu · Cucco · Darknut · Ganondorf · Ghirahim · Guardian · The Imprisoned · Koume · Kotake · Lana · Levias · Link · Linkle · Marin · Midna · Octorok · Ravio · Sheik · Skull Kid · Stalfos · Tetra · Tingle · Toon Link · Toon Zelda · Young Link · Zelda
Mach Rider
Mach Rider
Mega Man
Elec Man · Mega Man · Roll
Metal Gear
Gray Fox · Snake
Metroid
Dark Samus · Geemer · Kihunter · Metroid · Mother Brain · Reo · Ridley · Samus Aran
Mysterious Murasame Castle
Takamaru
NiGHTS
NiGHTS
Nintendogs
Nintendog
Nintendo Land
Gold Ghost · Monita
Nintendo Wars
Infantry · Tanks
Pac-Man
Blinky · Clyde · Inky · Ms. Pac-Man · Pac-Man · Pinky
Pikmin
Alph · Bulborb · Charlie · Iridescent Glint Beetle · Olimar · Peckish Aristocrab · Pikmin · Toady Bloyster
Pokémon
Abomasnow · Arceus · Audino · Avalugg · Beartic · Beautifly · Beedrill · Bellossom · Blastoise · Blaziken · Bonsly · Buizel · Celebi · Chandelure · Charizard · Chespin · Claydol · Cryogonal · Cubchoo · Darkrai · Dedenne · Deerling · Delibird · Dewgong · Diancie · Ditto · Dodrio · Dragonite · Electrode · Emolga · Entei · Exeggutor · Fennekin · Floatzel · Furfrou · Gallade · Gardevoir · Gastly · Genesect · Gengar · Geodude · Giratina · Goldeen · Goodra · Gothitelle · Gothorita · Gourgeist · Greninja · Gulpin · Hawlucha · Haxorus · Helioptile · Hitmonlee · Hoopa · Illumise · Inkay · Ivysaur · Jigglypuff · Jirachi · Keldeo · Koffing · Kyurem · Lampent · Lilligant · Lucario · Lugia · Machamp · Magnemite · Magnezone · Manaphy · Marill · Mawile · Meloetta · Meowstic · Meowth · Mew · Mewtwo · Mienshao · Minior · Munchlax · Murkrow · Oshawott · Petlil · Pichu · Pidgeot · Pidove · Pikachu · Politoed · Porygon2 · Rampardos · Rayquaza · Rhydon · Riolu · Roselia · Roserade · Rowlet · Sawsbuck · Scizor · Sealeo · Smeargle · Sneasel · Snivy · Snorlax · Snorunt · Solgaleo · Spinda · Squirtle · Staryu · Stoutland · Suicune · Sunflora · Tapu Koko · Timburr · Togedemaru · Togekiss · Togetic · Trevenant · Unown · Vanilluxe · Venusaur · Victini · Virizion · Volbeat · Weavile · Weezing · Wimpod · Wobbuffet · Zapdos · Zoroark · Zygarde
Punch-Out!!
Bald Bull · Doc Louis · King Hippo · Little Mac
Rhythm Heaven
Sneaky Spirit
R.O.B.
R.O.B.
Sheriff
Sheriff
SimCity
Dr. Wright
Sin & Punishment
Saki Amamiya
Sonic the Hedgehog
Amy Rose · Knuckles the Echnidna · Metal Sonic · Shadow the Hedgehog · Silver the Hedgehog · Sonic the Hedgehog · Sticks the Badger · Tails · Wisps
Splatoon
Cap'n Cuttlefish · Inkling · Octobomber · Octocopter
Star Fox
Andross · Falco Lombardi · Fox McCloud · Krystal · Tricky · Wolf O'Donnell
Street Fighter
Ken Masters · Ryu
Super Mario
Ant Trooper · Banzai Bill · Birdo · Bob-Omb · Boom Boom · Bowser · Bowser Jr. · Bullet Bill · Chain Chomp · Daisy · Dr. Mario · Dry Bones · Flame Chomp · Freezie · Galoomba · Geno · Goomba · Hammer Bro. · Iggy Koopa · Kamek · King Boo · Koopa Paratroopa · Koopa Troopa · Lakitu · Larry Koopa · Lemmy Koopa · Ludwig von Koopa · Luigi · Luma · Magikoopa · Mario · Morton Koopa Jr. · Mr. L · Nabbit · Paper Mario · Peach · Piranha Plant · Rosalina · Roy Koopa · Spike · Spike Top · Spiny · Tanooki Mario · Toad · Toadette · Toadsworth · Waluigi · Wendy O. Koopa
Super Smash Bros.
Crazy Hand · Duon · Galleom · Glice · Glire · Glunder · Master Core · Master Hand · Mii · Mite · Roturret · Sandbag · Tabuu · Towtow
Tales
Lloyd Irving · Yuri Lowell
Tekken
Heihachi Mishima
The Last Story
Zael
The Wonderful 101
Wonder Red
Urban Champion
Urban Champion
Wario
Ana · Ashley · Kat · Mona · Wario
Wii Fit
Wii Fit Trainer
The World Ends With You
Daisukenojo Bito · Neku Sakuraba
Xenoblade
Dunban · Elma · Fiora · Lin Lee Koo · Riki · Shulk · Tatsu
Xenosaga
KOS-MOS
Yoshi
Baby Luigi · Baby Mario · Fly Guy · Kamek · Pak E. Derm · Shy Guy · Yoshi
Zangeki no Reginleiv
Freya
Characters that are the basis for Mii Fighter costumes
Alena · Amy Rose · Arle Nadja · Arlon · Axem Red · Axl · Azura · Bass · Big Boss · Big the Cat · Black Knight · Blaze the Cat · Blinky · Bomberman · Bomb Man · Booster · Bravoman · Brendan · Chao · Charmy Bee · Chrom · Chun-Li · Cia · Clovis · Clyde · Cut Man · Duster · E-102 Gamma · Don-Chan · Dr. Eggman · Dr. Ein · Elec Man · Elpizo · Emerl · Fire Man · Flint · Flying Man · Garland · Geno · Gilgamesh · Gray Fox · Guile · Gulley · Hilda · Inky · Irene · Isabelle · Jack · Jet the Hawk · Jin Kazami · Jude Mathis · Katt Monroe · King · Kissy · Knuckles the Echidna · Kris · Kritter · King K. Rool · Leaf · Leon Kowalski · Lightning · Link · Little Mac · Lloyd Irving · Loki · Luka · Mack · Magearna · Mallow · Mappy · Masked Man · M. Bison · Mei Ling · Metal Sonic · Meryl Silverburgh · Midna · Mujoe · Nightmare · NiGHTS · Noctis Lucis Caelum · Omochao · Panther Caruso · Pawapurokun · Pigmask · Pinky · Proto Man · Reala · Red · Red Baron · Rodin · Roll · Rosa · Rosalina · Runner · Ryo Hazuki · Ryoma · Selena · Shiki Misaki · Sophie · Sophitia Alexandra · Sorey · Squall Leonhart · Stahn Aileron · Sticks the Badger · Strider Hiryu · Tails · The Prince · Tidus · Timber the Tiger · Time Man · Toad · Toadette · Tom Nook · Tron Bonne · Valkyrie · Viridi · Wave the Swallow · Wonder Momo · X · Xander · Yarn Yoshi · Yuga · Zero
Characters that appear as trophies
Alena · Amy Rose · Annie and Moe · Aya Brea · AZ · Big the Cat · Blaze the Cat · Bokoblin · Callie · Cap'n Cuttlefish · Captain Toad · Chao · Charmy Bee · Classic Sonic · CommanderVideo · Cream the Rabbit · Crono · Crusty Sean · Dr. Eggman · E-123 Omega · Espio the Chameleon · Hue · Jelonzo · Jessica Albert · Jet the Hawk · Joshua · Judd · Junpei · Knuckles the Echidna · Kururin · Lyric · Makoto Naegi · Marie · Metal Sonic · Monokuma · Octoling · Omochao · Paper Peach · Prince Richard · Rhyme · Rouge the Bat · Sanae Hanekoma · Shantae · Sheldon · Shiki Misaki · Sho Minamimoto · Shovel Knight · Silver the Hedgehog · Slime · Spyke · Tails · The Deadly Six · Time Eater · Toad Brigade · Vector the Crocodile · Yangus · Zero