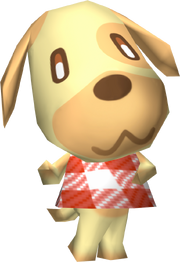 Normal is a personality found within the Animal Crossing series. Often also called Sweet or Sweetie villagers, Normal villagers have neutral opinions on things like hobbies, people or items.
Normal villagers are known for their sweet demure and naivete. Normal villagers tend to get along with all villagers, including Cranky and Snooty villagers, and take insults lightly. They are very rarely seen to be angry.
Normal villagers get little, to no, sleep - sleeping from 1:00am to 5:00am. Sometimes, albeit rarely, Normal villagers can be found asleep inside their homes.
Normal Villagers
Edit
A
B
C
D
E
F
G
H
J
K
L
M
N
O
P
R
S
T
V
Z
Ad blocker interference detected!
Wikia is a free-to-use site that makes money from advertising. We have a modified experience for viewers using ad blockers

Wikia is not accessible if you've made further modifications. Remove the custom ad blocker rule(s) and the page will load as expected.