This article is about the "Peach" of the

Rose Warriors

canon. For this Peach's normal incarnation, see

here

.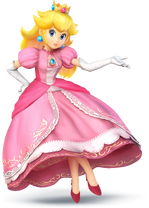 Full Name:
Peach Toadstool
Hometown:
Mushroom Kingdom
Gender:
Female

♀

Species:
Human
Weapon:
Magic
Alignment

Rose Warriors

Status:
Alive

*
Peach's Theme (Paper Mario: Sticker Star)
Peach is a major protagonist featured within the Rose Warriors series of video games. She is a member of the Rose Warriors.
Personality
Edit
Peach is a classy, kind, clever, adventurous, unselfish, yet somewhat stubborn. While she is noble, and often puts her friends before herself. She has a gentle demeanour, but can be rash and tough when need be. Peach is shown to be competitive with others, as she likes to participate in sporting events, and has a love of video games. Despite this, she also enjoys relaxing, as she is also known to love ballroom dancing and gardening.
Peach is able to be naive and strong-willed, as well as motherly and wise, as she protects her subjects like they're her own children. Despite this, she is shown to be needing of company, and can be depressed or confused when no one (she likes) is around to accompany her, though this is doubled when it comes to the company of Mario. As Peach was kidnapped on a regular basis before the worlds collided, Peach often apologizes for her mistakes, and fears being kidnapped by evildoers.
Rose Warriors
Edit
Rose Warriors: Vengeance
Edit
This page is under construction.
Please excuse its informal appearance while it is being worked on, as formatting may be changed over time. We hope to have this page completed as soon as possible!
Ad blocker interference detected!
Wikia is a free-to-use site that makes money from advertising. We have a modified experience for viewers using ad blockers

Wikia is not accessible if you've made further modifications. Remove the custom ad blocker rule(s) and the page will load as expected.