This article is about the "Pikachu" of the

Rose Warriors

canon. For this Pikachu's normal incarnation, see

here

.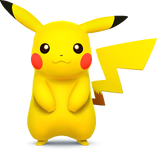 Full Name:
Pikachu
Hometown:
Pallet Town, Kanto
Gender:
Male

♂

Species:
Pokémon
Weapon:
Electric powers
Alignment

Rose Warriors

Status:
Alive

*
Wild Pokémon Battle (Ruby / Sapphire)
Pikachu is a major protagonist featured within the Rose Warriors series of video games. He is one of the founding members of the Rose Warriors.
Personality
Edit
Pikachu is a fun loving, innocent and, somewhat childish, Pokémon owned by a trainer by the name of Ash Ketchum. Pikachu is shown to love playing around with other Pokémon, and is shown to grow attached to those who care for it. For some reason, he has an almost obsessive love of ketchup.
Unlike in the Pokémon series, Pikachu speaks words as opposed to variations of his own name. He explains that he learned English from Ash, though never liked to use it.
Rose Warriors
Edit
Rose Warriors: Vengeance
Edit
This page is under construction.
Please excuse its informal appearance while it is being worked on, as formatting may be changed over time. We hope to have this page completed as soon as possible!
Ad blocker interference detected!
Wikia is a free-to-use site that makes money from advertising. We have a modified experience for viewers using ad blockers

Wikia is not accessible if you've made further modifications. Remove the custom ad blocker rule(s) and the page will load as expected.