#112

Rhydon
Rhydon (Japanese: サイドン Sidon) is a dual-type  Ground  /  Rock  Pokémon.
It evolves from Rhyhorn starting at level 42 and evolves into Rhyperior when traded holding a Protector.
| | |
| --- | --- |
| | This section temporarily contains information copied directly from Bulbapedia, and needs to be rewritten so not to be classified as plagiarism. |
Rhydon is a large, gray, bipedal Pokémon with features of both dinosaurs and rhinoceroses. It has a cream-colored, drill-like horn on its snout. The female will have a smaller horn than the male. There are other protrusions on the head as well, including a spike curving forward from the middle of its head, two triangular, point resembling ears to the sides of the spike, a wide, wavy crest under the ears, and spiky ridges on its cheeks. It has red eyes and two fangs protruding from its upper jaw. It has a cream-colored stomach and a row of spikes down its back. Rhydon has a long tail with skinny, black stripes.
Rhydon is a physically powerful Pokémon. It is recorded as being able to topple buildings with a sweeping blow of its tail, and its horn is able to bore through solid rock and shatter diamonds. Rhydon is protected from heat and physical blows by its armor-like hide. It is stated to be capable of passing unscathed through streams of magma and withstanding a direct blow from a cannonball without being harmed. However, because of this tough hide, it is insensitive. Rhydon has a well-developed brain, but can also be forgetful. It lives in rough terrain.
Evolution
Edit
EVOLUTIONARY FAMILY OF

Rhydon


in 

generation VII

Level 42

→

+

Trade holding Protector

→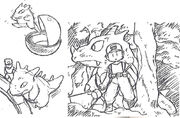 According to interviews with Ken Sugimori (translation), Rhydon holds the distinction of being the first Pokémon ever created. This is further supported as its index number is 001 in Generation I, as well as early sketches from Capsule Monsters featuring Rhydon.
Characters of  

Super Smash Bros. Strife

Animal Crossing
Digby · Isabelle · Mr. Resetti · Villager
Bayonetta
Bayonetta · Jeanne
Bomberman
Bomberman
Captain Rainbow
Captain Rainbow
Chibi-Robo
Chibi-Robo · Telly Vision
Custom Robo
Ray Mk III
Devil World
Devil
Dillon's Rolling Western
Dillon
Donkey Kong
Cranky Kong · Diddy Kong · Dixie Kong · Donkey Kong · Fish Poker Pops · Funky Kong · King K. Rool · Kritter · Pauline · Pointy Tuck · Tiki Buzz · Zinger
Drill Dozer
Jill
Duck Hunt
Dog · Duck
EarthBound
Devil Car · Flying Man · Jeff Andonuts · Kumatora · Lucas · Mr. Saturn · Ness · Ninten · Pigmask · Starman
Electroplankton
Hanenbow
Ever Oasis
Isuna · Tethu
Excite
Excitebike
Final Fantasy
Cloud Strife · Gilgamesh · Lightning · Noctis Lucis Caelum · Terra Branford · Tifa Lockhart
Find Mii
Ghost
Fire Emblem
Chrom · Corrin · Elincia · Ike · Itsuki Aoi · Lucina · Lyn · Marth · Risen · Robin · Roy
F-Zero
Captain Falcon · Samurai Goroh
Game & Watch
Mr. Game & Watch
Golden Sun
Isaac
Gradius
Vic Viper
Ice Climber
Nana · Polar Bear · Popo · Topi
Jam with the Band
Barbara
Kaeru no Tame ni Kane wa Naru
Sablé Prince
Kid Icarus
Boom Stomper · Bumpety Bomb · Dark Pit · Magnus · Mimicutie · Monoeye · Orne · Palutena · Phosphora · Pit · Reaper · Skuttler · Souflee · Zuree
Kirby
Adeleine · Bonkers · Bronto Burt · Broom Hatter · King Dedede · Galacta Knight · Gordo · Kirby · Knuckle Joe · Meta Knight · Nightmare · Poppy Bros. Jr. · Queen Sectonia · Shotzo · Tac · Waddle Dee · Waddle Doo · Whispy Woods
Kururin
Kururin
Legendary Starfy
Starfy · Starly
Legend of Zelda
Bombchu · Bubble · Bulblin · ChuChu · Cucco · Darknut · Ganondorf · Ghirahim · Guardian · The Imprisoned · Koume · Kotake · Lana · Levias · Link · Linkle · Marin · Midna · Octorok · Ravio · Sheik · Skull Kid · Stalfos · Tetra · Tingle · Toon Link · Toon Zelda · Young Link · Zelda
Mach Rider
Mach Rider
Mega Man
Elec Man · Mega Man · Roll
Metal Gear
Gray Fox · Snake
Metroid
Dark Samus · Geemer · Kihunter · Metroid · Mother Brain · Reo · Ridley · Samus Aran
Mysterious Murasame Castle
Takamaru
NiGHTS
NiGHTS
Nintendogs
Nintendog
Nintendo Land
Gold Ghost · Monita
Nintendo Wars
Infantry · Tanks
Pac-Man
Blinky · Clyde · Inky · Ms. Pac-Man · Pac-Man · Pinky
Pikmin
Alph · Bulborb · Charlie · Iridescent Glint Beetle · Olimar · Peckish Aristocrab · Pikmin · Toady Bloyster
Pokémon
Abomasnow · Arceus · Audino · Avalugg · Beartic · Beautifly · Beedrill · Bellossom · Blastoise · Blaziken · Bonsly · Buizel · Celebi · Chandelure · Charizard · Chespin · Claydol · Cryogonal · Cubchoo · Darkrai · Dedenne · Deerling · Delibird · Dewgong · Diancie · Ditto · Dodrio · Dragonite · Electrode · Emolga · Entei · Exeggutor · Fennekin · Floatzel · Furfrou · Gallade · Gardevoir · Gastly · Genesect · Gengar · Geodude · Giratina · Goldeen · Goodra · Gothitelle · Gothorita · Gourgeist · Greninja · Gulpin · Hawlucha · Haxorus · Helioptile · Hitmonlee · Hoopa · Illumise · Inkay · Ivysaur · Jigglypuff · Jirachi · Keldeo · Koffing · Kyurem · Lampent · Lilligant · Lucario · Lugia · Machamp · Magnemite · Magnezone · Manaphy · Marill · Mawile · Meloetta · Meowstic · Meowth · Mew · Mewtwo · Mienshao · Minior · Munchlax · Murkrow · Oshawott · Petlil · Pichu · Pidgeot · Pidove · Pikachu · Politoed · Porygon2 · Rampardos · Rayquaza · Rhydon · Riolu · Roselia · Roserade · Rowlet · Sawsbuck · Scizor · Sealeo · Smeargle · Sneasel · Snivy · Snorlax · Snorunt · Solgaleo · Spinda · Squirtle · Staryu · Stoutland · Suicune · Sunflora · Tapu Koko · Timburr · Togedemaru · Togekiss · Togetic · Trevenant · Unown · Vanilluxe · Venusaur · Victini · Virizion · Volbeat · Weavile · Weezing · Wimpod · Wobbuffet · Zapdos · Zoroark · Zygarde
Punch-Out!!
Bald Bull · Doc Louis · King Hippo · Little Mac
Rhythm Heaven
Sneaky Spirit
R.O.B.
R.O.B.
Sheriff
Sheriff
SimCity
Dr. Wright
Sin & Punishment
Saki Amamiya
Sonic the Hedgehog
Amy Rose · Knuckles the Echnidna · Metal Sonic · Shadow the Hedgehog · Silver the Hedgehog · Sonic the Hedgehog · Sticks the Badger · Tails · Wisps
Splatoon
Cap'n Cuttlefish · Inkling · Octobomber · Octocopter
Star Fox
Andross · Falco Lombardi · Fox McCloud · Krystal · Tricky · Wolf O'Donnell
Street Fighter
Ken Masters · Ryu
Super Mario
Ant Trooper · Banzai Bill · Birdo · Bob-Omb · Boom Boom · Bowser · Bowser Jr. · Bullet Bill · Chain Chomp · Daisy · Dr. Mario · Dry Bones · Flame Chomp · Freezie · Galoomba · Geno · Goomba · Hammer Bro. · Iggy Koopa · Kamek · King Boo · Koopa Paratroopa · Koopa Troopa · Lakitu · Larry Koopa · Lemmy Koopa · Ludwig von Koopa · Luigi · Luma · Magikoopa · Mario · Morton Koopa Jr. · Mr. L · Nabbit · Paper Mario · Peach · Piranha Plant · Rosalina · Roy Koopa · Spike · Spike Top · Spiny · Tanooki Mario · Toad · Toadette · Toadsworth · Waluigi · Wendy O. Koopa
Super Smash Bros.
Crazy Hand · Duon · Galleom · Glice · Glire · Glunder · Master Core · Master Hand · Mii · Mite · Roturret · Sandbag · Tabuu · Towtow
Tales
Lloyd Irving · Yuri Lowell
Tekken
Heihachi Mishima
The Last Story
Zael
The Wonderful 101
Wonder Red
Urban Champion
Urban Champion
Wario
Ana · Ashley · Kat · Mona · Wario
Wii Fit
Wii Fit Trainer
The World Ends With You
Daisukenojo Bito · Neku Sakuraba
Xenoblade
Dunban · Elma · Fiora · Lin Lee Koo · Riki · Shulk · Tatsu
Xenosaga
KOS-MOS
Yoshi
Baby Luigi · Baby Mario · Fly Guy · Kamek · Pak E. Derm · Shy Guy · Yoshi
Zangeki no Reginleiv
Freya
Characters that are the basis for Mii Fighter costumes
Alena · Amy Rose · Arle Nadja · Arlon · Axem Red · Axl · Azura · Bass · Big Boss · Big the Cat · Black Knight · Blaze the Cat · Blinky · Bomberman · Bomb Man · Booster · Bravoman · Brendan · Chao · Charmy Bee · Chrom · Chun-Li · Cia · Clovis · Clyde · Cut Man · Duster · E-102 Gamma · Don-Chan · Dr. Eggman · Dr. Ein · Elec Man · Elpizo · Emerl · Fire Man · Flint · Flying Man · Garland · Geno · Gilgamesh · Gray Fox · Guile · Gulley · Hilda · Inky · Irene · Isabelle · Jack · Jet the Hawk · Jin Kazami · Jude Mathis · Katt Monroe · King · Kissy · Knuckles the Echidna · Kris · Kritter · King K. Rool · Leaf · Leon Kowalski · Lightning · Link · Little Mac · Lloyd Irving · Loki · Luka · Mack · Magearna · Mallow · Mappy · Masked Man · M. Bison · Mei Ling · Metal Sonic · Meryl Silverburgh · Midna · Mujoe · Nightmare · NiGHTS · Noctis Lucis Caelum · Omochao · Panther Caruso · Pawapurokun · Pigmask · Pinky · Proto Man · Reala · Red · Red Baron · Rodin · Roll · Rosa · Rosalina · Runner · Ryo Hazuki · Ryoma · Selena · Shiki Misaki · Sophie · Sophitia Alexandra · Sorey · Squall Leonhart · Stahn Aileron · Sticks the Badger · Strider Hiryu · Tails · The Prince · Tidus · Timber the Tiger · Time Man · Toad · Toadette · Tom Nook · Tron Bonne · Valkyrie · Viridi · Wave the Swallow · Wonder Momo · X · Xander · Yarn Yoshi · Yuga · Zero
Characters that appear as trophies
Alena · Amy Rose · Annie and Moe · Aya Brea · AZ · Big the Cat · Blaze the Cat · Bokoblin · Callie · Cap'n Cuttlefish · Captain Toad · Chao · Charmy Bee · Classic Sonic · CommanderVideo · Cream the Rabbit · Crono · Crusty Sean · Dr. Eggman · E-123 Omega · Espio the Chameleon · Hue · Jelonzo · Jessica Albert · Jet the Hawk · Joshua · Judd · Junpei · Knuckles the Echidna · Kururin · Lyric · Makoto Naegi · Marie · Metal Sonic · Monokuma · Octoling · Omochao · Paper Peach · Prince Richard · Rhyme · Rouge the Bat · Sanae Hanekoma · Shantae · Sheldon · Shiki Misaki · Sho Minamimoto · Shovel Knight · Silver the Hedgehog · Slime · Spyke · Tails · The Deadly Six · Time Eater · Toad Brigade · Vector the Crocodile · Yangus · Zero