Ritsu

Full Name
Autonomously Thinking Fixed Artillery
Date of Birth
January 1
Zodiac Sign
Capricorn
Gender
Genderless
Species
Artificial Intelligent Unit
Hometown
Tokyo, Japan
Class
Student
Debut
Assassination Time
Current Status(es)
Alive
Affiliation(s)
Class 3-E
Alias(es)
Moe Box
Autonomously Thinking Fixed Artillery (Japanese: 自律思考固定砲台 Jiritsu shikō kotei hōdai), more commonly known as Ritsu (Japanese: 律 Ritsu), is a major protagonist of the Japanese manga and anime series Assassination Classroom. She is a Norwegian artificial intelligence unit sent to kill Korosensei, and as such is a "student" of Class 3-E. She is the first of two transfer students to join Class 3-E, succeeding Itona Horibe, though the two were supposed to begin attending classes together.
Saki Fujita voices Ritsu in the original Japanese anime, while Bryn Apprill in the English dub.
Physical Appearance
Edit
Ritsu's exterior appearance is a large black brick of 170cm (5'7") height. Originally, she has a small screen showing just an emotionless head, though this screen was later enlarged by Korosensei, giving her a full-body appearance.
Ritsu has large blue eyes with large eyelashes, though her eyes were red before she was remodelled. She has blonde (pink in the anime) hair with a white, metallic hairband. She is commonly seen wearing Kunugigaoka Junior High's winter uniform, though she often changes her appearance to match whatever her classmates are wearing.
Personality
Edit
Prior to being remodelled by Korosensei, Ritsu was an emotionless being, focused entirely on killing her teacher. She had no concern for her classmates, and was willing to injure them if it could get her closer to her goal. After her remodelling, however, she prioritizes cooperation with her classmates, and is quite cheery to others. She is always honest and nice to those she works with, and has somewhat of her own volition.
Appearances
Edit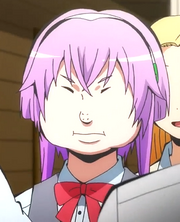 Unsurprisingly, Ritsu is the heaviest student in Class 3-E, weighing 499kg (1100 lbs).
As an artificial intelligence unit, Ritsu is not allowed to take school-wide tests such as exams. As such, she has a stand-in take her place. This stand-in is the daughter of Karasuma's immediate supervisor. Ritsu herself acts as a tutor to this stand-in.
Ad blocker interference detected!
Wikia is a free-to-use site that makes money from advertising. We have a modified experience for viewers using ad blockers

Wikia is not accessible if you've made further modifications. Remove the custom ad blocker rule(s) and the page will load as expected.