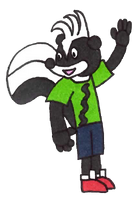 Sammy the Skunk
is the main antagonist in
Six Nights at Sammy's
.
Description
Edit
Sammy is the fun-loving mascot of Sammy's Supermall. He's a little mischievous, but all around loves making people's visits to the malls worth they're while!
Appearance
Edit
Sammy is a black and white animatronic skunk. He wears a green t-shirt, blue shorts, and red sneakers. On his t-shirt are three black S, which probably stand for "Sammy Skunk's Supermall". He has three spiked furs on the top of his head, and has an articulated tail.
He becomes active on the first night. Sammy starts out in the Mall Center. From there, he will go toward the main hall and can appear on any of the cameras, excluding the West and East Hall, Basement, and Pirate's Cove cameras. You will be able to see Sammy coming down the main hall toward the office. If he appears in the office, you must put on the animal mask quickly after setting down the monitor. If not quick enough, Sammy will kill the player.
Sammy is the first animatronic to be associated as the main enemy of a Five Nights at Freddy's game who is not Freddy himself.
Ad blocker interference detected!
Wikia is a free-to-use site that makes money from advertising. We have a modified experience for viewers using ad blockers

Wikia is not accessible if you've made further modifications. Remove the custom ad blocker rule(s) and the page will load as expected.