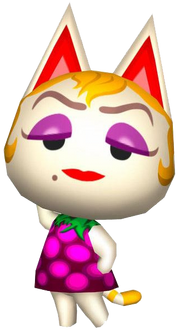 Snooty is a personality found within the Animal Crossing series. Often also called Stuck-up or Princess villagers, Snooty villagers are big headed and arrogant in the games, and are usually portrayed wearing make-up and styling clothes which match their style, as well as owning luxurious looking homes, though there are some exceptions.
Snooty villagers do not get along well with many people, only straying towards other snooty and Cranky villagers. Snooty villagers are well-spoken and sometimes appear offensive and rude towards other villagers, including the player. They are self-centered and sarcastic, but if the player talks to them often, they open up and become more talkative, sometimes give the player lessons in fashion. However, this doesn't prevent them from making the occasional scathing comment. Snooty villagers usually have exotic or upper-class names, or names relating to high-value items and gemstones, making them easy to distinguish when talking to villagers around the town.
Snooty villagers get an average amount of sleep, sleeping from 3:30am-9:00am. Snooty villagers will only leave the house after 10:30am, however, claiming that they must "make [themselves] presentable".
Snooty Villagers
Edit
A
B
C
D
E
F
G
J
K
M
N
O
P
Q
R
S
T
U
V
W
Y
Ad blocker interference detected!
Wikia is a free-to-use site that makes money from advertising. We have a modified experience for viewers using ad blockers

Wikia is not accessible if you've made further modifications. Remove the custom ad blocker rule(s) and the page will load as expected.