This article is about the "Starfire" of the

Rose Warriors

canon. For this Starfire's normal incarnation, see

here

.
| | | |
| --- | --- | --- |
| | Starfire | |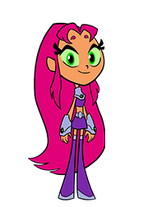 Full Name:
Koriand'r
Hometown:
Planet Tamaran
Gender:
Female

♀

Species:
Tamaranean
Weapon:
Superhuman strength, invulnerability, flight, immense speed, space survivability, "starbolt", "starblast", eyebeams, "starbolt rain"
Alignment

None

Status:
Alive

*
Space Travel
Starfire is a character featured prominently in the Rose Warriors series of video games. She is a member of the Rose Warriors.
Personality
Edit
Starfire is a carefree girl from another world, in love with Earth customs that her home planet - Planet Tamaran - does not have. She speaks broken English, often adding in incorrect words into sentences, or simply mispronouncing words (i.e. "What is all the locomotion?" Locomotion is said, instead of commotion). She is very brave and courageous, like all superheroes, and will always take on a challenge.
Rose Warriors
Edit
This page is under construction.
Please excuse its informal appearance while it is being worked on, as formatting may be changed over time. We hope to have this page completed as soon as possible!
Ad blocker interference detected!
Wikia is a free-to-use site that makes money from advertising. We have a modified experience for viewers using ad blockers

Wikia is not accessible if you've made further modifications. Remove the custom ad blocker rule(s) and the page will load as expected.