This article is about the "Toro" of the

Rose Warriors

canon. For this Toro's normal incarnation, see

here

.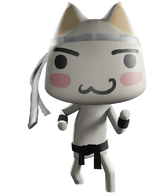 Full Name:
Toro Inoue
Hometown:
Unknown
Gender:
Male

♂

Species:
Cat
Weapon:
Sushi Katana
Alignment

Rose Warriors

Status:
Alive

*
Toro & Kuro's Theme
Toro is a major protagonist featured within the Rose Warriors series of video games. He is one of the founding members of the Rose Warriors.
Personality
Edit
Toro is a confident cat, who is always willing to try new things to become a human. While he strives to become human, he often can't suppress his feline instincts, and favours fish and milk to any food, and can not resist a colourful ball of yarn. Despite spending time with a very chatty sushi man, he can not speak English (well, he does use a few Engrish words) and only a handful of Japanese words. Despite his inability to communicate, he is often helpful and always tries to make friends and allies.
Rose Warriors
Edit
This page is under construction.
Please excuse its informal appearance while it is being worked on, as formatting may be changed over time. We hope to have this page completed as soon as possible!
Ad blocker interference detected!
Wikia is a free-to-use site that makes money from advertising. We have a modified experience for viewers using ad blockers

Wikia is not accessible if you've made further modifications. Remove the custom ad blocker rule(s) and the page will load as expected.